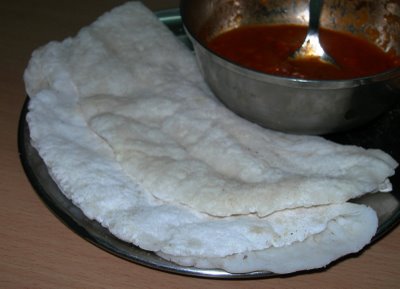 Ingredients:
1/2 cup rice flour (chawal ka atta)
1/3 cup Steamed Rice
salt to taste
Method:
Blend the cooked rice and spinach to a smooth purée in a blender without adding water.
Combine the prepared purée, rice flour, salt and enough water to make a soft dough. Knead well.
Divide the dough into 6 equal parts and roll out each portion into a thin circle of 150 mm. (6″) diameter, using flour to roll the rotis.
Cook one side of a roti on a tava (griddle) and put the other side directly over a gas flame for a few seconds till the roti puffs up and has brown spots on the surface.
Serve hot.