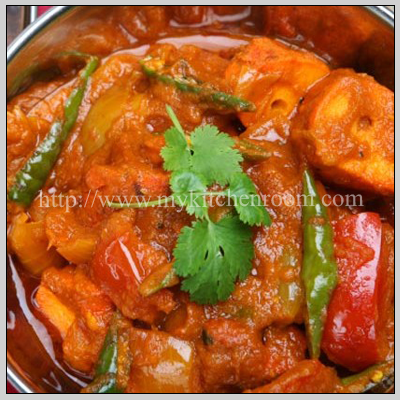 Ingredients:
1 kg chicken.
2 tsp lemon juice.
3/4th cup ghee.
4 large onion (chopped).
2 garlic(crushed).
2cups yougrt.
2cups water.
salt to taste.
Spices:  6 cloves.
1 brown cardamom.
12 black pepercorns.
2 pieces cinamon stick.
1/2tsp ground ginger.
1tsp turmeric powder.
1tsp red chili powder.
Garnish:1tsp garam masala powder.
2 tomatoes(sliced).
1 medium onion(chopped and fried).
Method:
Cut the chicken into four or eight pieces.
Mix salt and lemon juice and rub all over the chicken.
Set aid for 30 min.
Heat the ghee in a deep pan and add the brown cardamom,black peppercorn, cinnamon stick, cloves.
Stir well then add the onion, garlic, chicken and remaining spices.
Cook gently for 15 min steering continuously.
Add the yogurt and stir for 5 min over a low heat.
Add the water,cover and simmer for 40-50 min.
Until the chicken is tender.
Sprinkle the top with garam masala powder.
Arrange the tomatoes around the dish and cover with the onion.
Cook murgh do pyazza over moderate oven(180 degree-350 F).
For 10 min before serve.