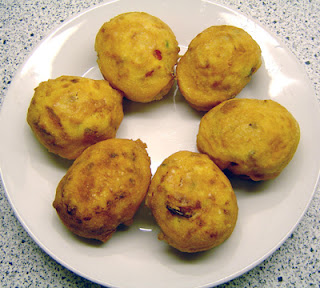 Ingredients:
Eggs -2 no's
Bread slices – 2 no's
Onion – 1 no's chopped
Tomato – 1 no's chopped
Green chilies – 2 no's chopped
Coriander leaves – 2 tablespoon
Milk – 1 tablespoon
Red chili powder – 1/4 teaspoon
Oil – 1 tablespoon
Salt To Taste
Method:
Beat the eggs and add milk, chopped onions, tomatoes, green chilies, coriander, salt & chili powder until foamed.
Heat oil in a frying-pan.
Dip bread slice in the mixture and coat it evenly and fry over low flame.
Fry on both sides until done.
Repeat the same for other slices.
Enjoy Egg Toast hot with ketchup.