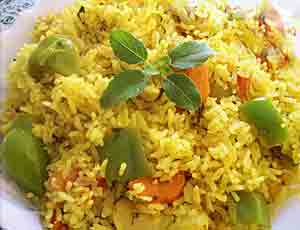 Ingredients:
Basmati rice – 2 cups
Water – 4 cups
Cardamom – 4 no's
Cloves – 4 no's
Cashews -5 no's
Almonds – 5no's
Raisins – 10 no's
Saffron – 4 no's strands
Butter/Ghee – 3 tablespoon
Coriander leaves – 1 tablespoon
salt to taste
Method:
Wash basmati rice and soak the for about 1 hour.
Heat butter/ghee to the pan and put in the cloves, cardamom and half the nuts.
Fry the nuts till they start to turn golden and the raisins start to swell up .
Add the rice and water , salt and then add in the saffron strands.
Cover the pan when the rice is done.
Fry the remaining dry fruits and decorate on the top of the cooked rice.
Garnish with Coriander leaves.
Enjoy Kesar Pulao with veg-nonveg curries.