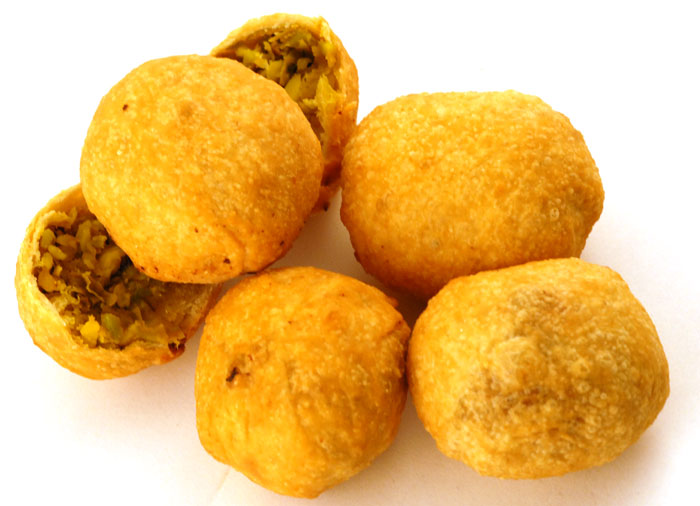 Ingredients:
Refined flour (maida) 2 cups
Salt to taste
Soda bicarbonate 1/2 teaspoon
Oil 5 tablespoons + to deep fry
FOR FILLING
Split black gram skinless (dhuli urad dal),soaked 1/2 cup
Ghee 3 tablespoons
Ginger,finely chopped 1 inch piece
Green chilli,chopped 1
Asafoetida a pinch
Coriander powder 1 teaspoon
Cumin powder 1/2 teaspoon
Red chilli powder 1 teaspoon
Fennel seed (saunf) powder 1/4 teaspoon
Cashewnuts,roughly chopped 6-8
Raisins 1 tablespoon
Sugar 1/2 teaspoon
Lemon juice 1 tablespoon
Method:
Sift flour, salt and soda bicarbonate together into a bowl.
Add oil and mix well.
Knead into a soft dough using sufficient water.
Cover with a moist cloth and set aside.
Coarsely grind soaked urad dal using a little water.
Heat ghee in a kadai and add ground dal, ginger, green chilli, asafoetida, coriander powder, cumin powder, red chilli powder, fennel powder, cashewnuts and raisins.
Cook till all the moisture has dried up.
Add sugar, salt and lemon juice.
Mix well and remove off the heat, let the mixture cool.
Divide into sixteen portions. Divide the flour dough into sixteen equal balls.
Roll out into small puris so that they are thinner around the edges and thicker in the centre.
Place a portion of stuffing in the centre and bring the edges together to form a ball.
Heat sufficient oil in a kadai and deep fry kachoris on low heat for three to five minutes or until golden brown and crisp. Drain and place on an absorbent paper.
Serve with tamarind chutney.