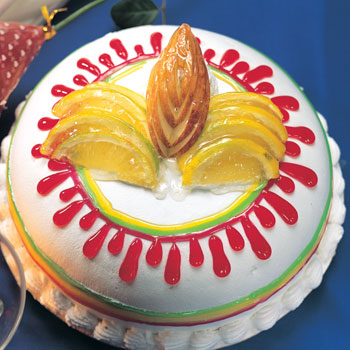 Ingredients:
2 cups all-purpose flour
1 cup wheat and 1 cup AP flour for a healthier option
3/4 cup unsalted butter
1-1/2 cup sugar
1 cup fresh mango puree (thick puree, no water added)
1 tsp vanilla essence
1/2 cup chopped mango or 8-10 slices
1 tsp baking powder
1 tsp baking soda
1/2 tsp salt
2 eggs
Method:
Heat the oven to 350° F. Lightly coat a 9″ x 9″ cake pan with butter and dust with all-purpose flour, or use non-stick cooking spray.
Sift the flour, baking powder, baking soda and salt into a large mixing bowl.
Beat the butter and sugar in a separate bowl until light and fluffy. Now beat in the eggs, one at a time, whipping a lot after each addition. Mix till soft peaks form.
Now slowly add the flour mixture to the butter mixture, beating continuously as you combine the two. If you are using a large spoon or hand beater, make sure you are always stirring in the SAME direction (clockwise or anticlockwise).
Finally add in the vanilla essence and mango puree and blend everything together.
You can choose to add the chopped mangoes in the batter or use them as a top layer, as I did. Pour the batter into the prepared pan; top with the mango slices and then cover completely with the streusel mixture.
Now bake for 35-40 mins at 350 degrees, or until the edges have separated from the sides of the mould and a wooden toothpick inserted in the center comes out clean. Remove from the oven and let the cake cool on the wire rack fr at least 15-20 mins.
For a breakfast option, slice your Mango Cake and serve with tea or coffee. To enjoy as a dessert, cut into wedges, top with vanilla ice cream, and garnish with more mango slices!