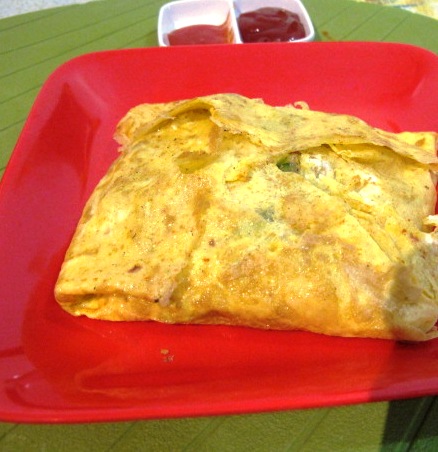 Ingredients:
4 eggs
2 small onions thinly chopped
2 tomatoes thinly chopped
4 green chillies chopped
1 tbsp ginger-garlic paste
1/2 tsp red chilli powder
1/2 tsp turmeric powder
1 tsp coriander powder
1 tsp garam masala powder
1/2 tsp cumin powder
1/2 tsp fresh lemon juice
Fresh coriander leaves chopped
1 cup vegetable oil
Salt to taste.
Method:
In a big bowl whisk the eggs thoroughly.
Now add all the ingredients in the same bowl.
Mix with the eggs.
Heat a sauce pan or tawa.
Sprinkle little bit of oil.
Pour half of the portion on the hot tawa, if you want to make 2 omelette's.
Simmer the flame and leave to cook for 2 minutes.
Check from the downside of the omelette, whether is cooked and able to flip.
Cook from other side as well.
Sprinkle little bit of oil and run a knife or spoon inside the omelette for cooking from inside as well.
In the similar way make other omelette as well.
Serve hot with Indian roti, bread slice or as it is with the tomato sauce.