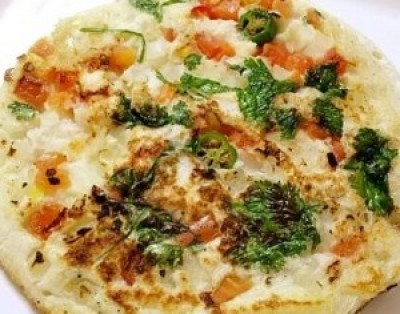 Ingredients:
2 cup rice (chawal)
1 cup split black gram lentil (dhuli urad dal)
3 onion (pyaj)
2 green chilly (hari mirch)
1 piece ginger (adrak)
1 tsp coriander leaves (dhania patti)
1 tsp salt (namak)
1/2 tsp red chilly powder (lal mirch)
oil.
Method:
Soak rice and dal separately for about 6 hours.
Then grind them separately.
Mix them in a container and add salt.
Cover and leave for fermentation for 12 hours.
Finely chop adrak, pyaj, hari mirch and dhania.
Mix lal mirch in chawal batter.
Heat a non stick pan/tawa and spread 1 tbsp batter on it.
Spread chopped vegetables on it.
Cook at low flame and grease it on the corners and turn it to cook the other side.
Serve it hot.