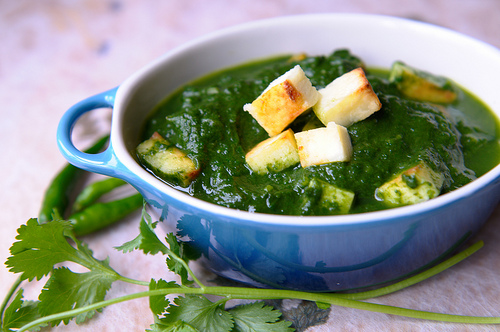 Ingredients:
Spinach 2 large bunches
Cottage cheese (paneer) 200 grams
Green chillies 2-3
Garlic 8-10 cloves
Oil 3 tablespoons
Cumin seeds 1/2 teaspoon
Salt to taste
Lemon juice 1 tablespoon
Fresh cream 4 tablespoons
Method:
Remove stems, wash spinach thoroughly in running water.
Blanch in salted boiling water for two minutes.
Refresh in chilled water.
Squeeze out excess water.
Remove stems, wash and roughly chop green chillies.
Grind spinach into a fine paste along with green chillies.
Dice paneer into one inch by one inch by half inch pieces.
Peel, wash and chop garlic. Heat oil in a pan.
Add cumin seeds.
When they begin to change colour, add chopped garlic and sauté for half a minute.
Add the spinach puree and stir.
Check seasoning. Add water if required.
When the gravy comes to a boil, add the paneer and mix well. Stir in lemon juice.
Finally add fresh cream. Serve hot.