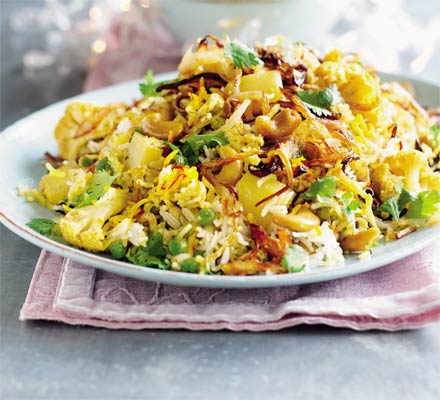 Ingredients:
1 cup rice (chawal)
2 pinches of saffron (kesar) strands
2 onions, sliced
2 tbsp broken cashewnuts (kaju)
2 tbsp raisins (kismis)
3 tomatoes, finely chopped
2 capsicums, sliced
1 1/2 cups mixed boiled vegetables
1 tbsp chopped coriander (dhania)
a little milk
4 tbsp ghee
salt to taste
6 cloves of garlic(lehsun)paste
25 mm. piece ginger(adrak)paste
3 cardamoms (elaichi)
4 green chillies
3 cloves (laung / lavang)
1 tbsp poppy seeds (khus-khus)
2 sticks cinnamon (dalchini)
1/2 tsp turmeric powder (haldi)
1/2 tsp chilli powder
2 onions
6 mint leaves (phudina)
For baking
2 tbsp ghee
Method:
You can take cauliflower, carrots, potatoes, green peas as the mixed vegetables.
Boil the rice. Each grain of the cooked rice should be separate. Drain and cool.
Warm the saffron in a small vessel, add a little water and rub until it dissolves.
Add the saffron liquid and salt to the cooked rice. Mix well.
Heat the ghee and fry the onions until brown. Remove the onions and in the same ghee, add the cashewnuts and raisins and fry for a few seconds. Remove and keep aside for decoration.
In the same ghee, add the paste and fry for 3 to 4 minutes. Add the tomatoes and capsicum and fry again for 2 to 3 minutes. If you like, sprinkle a little water. Add the boiled vegetables and coriander and cook for a while.
Put 2 tablespoons of ghee at the bottom of a baking bowl. Make layers of the rice and vegetables, beginning and ending with rice.
Sprinkle a little milk on top. Cover and bake in a hot oven at 200 degree C (400 degree F) for 15 to 20 minutes.
psjust before serving, turn upside down on a serving plate, garnish with fried onions, cashewnuts and raisins and serve hot.